Variety is the spice of life so rack up on these awesome alternatives, bb!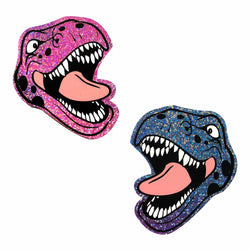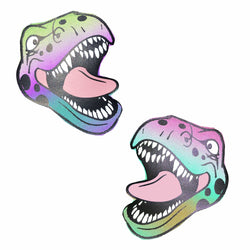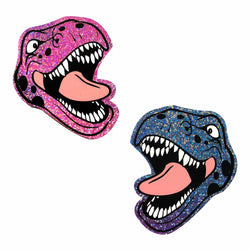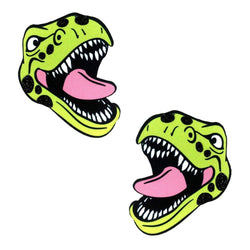 Meet the newly discovered Tyrannasuarus Sexamongus - a fierce, sexy creature from the Cretaceous Period, more endearingly referred to a  Sexy TRexy. These reptilian raver TRex Nipztix will have Cavemen, Neanderthals, and modern Hominids hunting for you! Don't worry, the only thing going extinct in Sexy T-Rexy's presence is boredom.
P.S. This T-Rex also can do Push Ups ;)

About:

Each pack includes 2 Nipztix pasties. Nipztix will effectively hide your thunder while allowing you to shine! Our pasties are great for raves and rendezvous, parties and poolsides, and festivals or fashion emergencies. Wear Nipztix for evenings out, with daring dresses or to spice up those intimate situations ;) Rock Your Body (yeah, yeah) without the wardrobe malfunctions. Join our party and dare to (almost) bare!
All Nipztix are handmade with love and therefore unique! Product may vary slightly from image. 

Make sure to check out our matching Peeper Bodysuits, Naughty Knix and more!
Why Are Nipztix So Awesome?
All Neva Nude products are hand made in sunny California

Hypoallergenic, latex-free medical grade adhesive

Last for 10-12 hours

Made of locally sourced materials (Santa Monica, yay!) 

Self-adhering with an easy, peasy application

Spice up your cutest outfits, wear under tanks, or even replace a bikini top ;)

Female owned and operated, BOOOYAH
 Size:
2.5" x 3"
Popular Pasties